CCS Laser Rejuvenation Skin Care Line Product Information
CCS Laser Rejuvenation has partnered with a pharmaceutical skin care company to provide our clients with the highest-grade skin care products that best complement our laser treatments. All of our products are medical grade, which are backed by research and science, and proven to work. They have higher concentrations of active ingredients than over-the- counter products, allowing the ingredients to treat deeper layers of the skin. They are of the highest standards of purity, potency and stability and treat a wide variety of skin concerns and conditions. With these products less is more, so a little goes a long way! We will help you choose the best products for you skin, creating a personalized package just for you!
Gentle Antioxidant Soothing Cleanser
This gentle soap-free cleanser delivers moisturizing and skin softening benefits in s non-drying formula. A rich blend of antioxidants assists in the minimizing of free radical induced skin damage.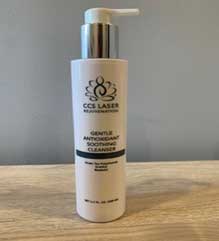 Benefits:
A rich blend of antioxidants including Vitamins A-C-A, green Tea, and Co-Q10 calm and soothe skin
Glycerin, a powerful humectant, moisturizes and softens skin
Soothing, light lavender-citrus hypoallergenic fragrance
Free of alcohol, gluten. Parabens, and soap
Key ingredients:
Vitamin A-C-E
C0-Q10
Green tea extract
Bisabolol
Botanicals
Lavender oil
Three powerful antioxidants combine in this moisturizing formula clinically proven to calm and soothe skin, reduce the appearance of redness, fine lines, wrinkles, puffiness, and pore size.
Benefits:
90% Green Tea Polyphenols (the highest purified form available) help to reduce the potential for irritation and calm skin redness
Resveratrol, an extremely powerful antioxidant found in red wine known for its anti-aging properties, protects against free radical damage
Caffeine USP enhances the antioxidant properties of the green tea
Free of fragrance, gluten, and parabens
Key Ingredients:
Green Tea Polyphenols
Resveratrol
Caffeine USP
20% Vitamin C Brightening Serum
Triple duty antioxidant formula helps to brighten the complexion, support healthy collagen production, and protect against damaging free radicals and HEV (blue light). Its controlled time-released delivery system provides maximum penetration and absorption and complements all skin care regimens.
Benefits:
Penetrating ascorbate blend helps brighten the complexion- 20% Vitamin C active complex supports healthy collagen
Matric polymer delivery system stabilizes the ascorbate system and supports the absorption of other cosmetic treatments, including retinol
Antioxidant system moisturizes and helps guard against free radical damage
Free of fragrance, gluten, parabens, and oil
Key Ingredients:
Tretrahexyldecyl Ascorbate
L-Ascorbic Acid
Arbutin
Bearberry
Emblica
Co-Q10
Vitamins A & E
Fractionated Hyaluronic Acid Hydrating Serum
This pure, nourishing serum formulated with fractionated hyaluronic acid penetrates deep within the dermis to draw moisture in and hold it there. A universal booster in any regimen, providing all day moisture retention and skin barrier repair, with each drop skin appears brighter, firmer and rejuvenated.
Benefits:
Various molecular forms of hyaluronic acid (fractionated and high molecular weight) ensure continuous and optimal hydration
Powerful humectant Sodium PCA and Glycerin bind moisture and help maintain the skin barrier
Palmitoyl Tripeptide-28 supports healthy collagen production
Essential Mineral Complex (Zinc PCA and Copper PCA) conditions skin and helps reduce excess oil
Free of fragrance, parabens
Key Ingredients
Sodium Hyaluronate
Hydrolyzed Sodium Hyaluronate
Sodium PCA
Glycerin
Palmitoyl Tripeptide-28
Camellia Sinensis (white tea) Extract
Ergothioneine, Glutathione
Zinc and Copper PCA
Lipid Replenishing Soft Cream
Formulated to equalize skin's natural moisture levels and help to calm skin resulting in a healthy skin barrier, better treatment outcomes, and a youthful appearance.
Benefits:
Systems of naturally occurring lipids in skin, to provide essential nourishment and visibly improve elasticity and texture
Infused with a proprietary blend of squalene, cholesterol, and ceramides
Amino acids store water to visibly plump and smooth skin while various molecular weights of hyaluronic acid ensure continuous hydration.
Tetrapeptide-21 supports a collagen rich appearance helping to visibly reduce fine lines and wrinkles
Various potent antioxidants combine to provide soothing and calming properties and help guard against environmental free radical damage
Free of fragrance, gluten, parabens, and oil
Key Ingredients:
Cholesterol
Biomemetic Ceramides
Squaline
Hyaluronic acid
Tetrapeptide-21
Green tea Polyphenols
Caffeine USP
Resveratrol
Concentrated Retinol & Bakuchiol Treatment Serum 2.5x, 5x, & 10x
New and innovative Retnoin® Active Pro-Penetrant delivery system activates a heightened level of retinization to the skin. Formulated with All-trans-Retinol, a clinically proven pure and active retinoid, helps to improve the look of fine lines, wrinkles, pores, and blemishes. Bakuchiol, a natural complement to retinol, boosts overall antioxidant activity to increase benefits and visibly reduce the incidence of redness or irritation. For facial use only.
Benefits:
Bakuchiol acts similarly to a retinol and an antioxidant, helping to improve the visible signs of aging
Transdermal, time-released delivery system for maximum efficiency
Antioxidant benefits of 90% green tea polyphenols
Caffeine enhances antioxidant activity and helps minimize the appearance of redness
Unique titration system for step up results and maximum compliance
Free of Oil, Gluten, Parabens, Alcohol, and Fragrance
Key Ingredients:
All-trans-Retinol
Bakuchiol
Licorice Root
Green Tea Polyphenols
Caffeine
Essential Oil-Free Sheer or Tinted SPF 50 Sunscreen
Broad spectrum SPF 50 sunscreen with lactic and hyaluronic acids, gentle yet effective ingredients for achieving even and supple skin. Clinically preferred concentration of niacinamide helps to visibly brighten areas of discoloration and blemishes.
Benefits:
Mineral-based broad-spectrum UVA/UVB protection
Antioxidant infused to soothe and calm skin
Helps visibly improve areas of discoloration, blemishes, and uneven skin tone
Soft, lightweight, and calming, this formula is ideal for daily use
Free of Fragrance, Oil, and Parabens
Key Ingredients:
Zinc Oxide 14.5%
Octinoxate 7.5%
Niacinamide
Lactic Acid
Hyaluronic Acid
Peptide & Edelweiss Neck Firming Cream
Developed specifically for the neck and décolleté, hydrating neck cream helps to firm, lift, and tighten skin that has lost definition with age. This cream helps to support collagen and elastin production, smooth and even skin tone, and reduce signs of aging.
Benefits:
Biomimetic ceramide complex helps to repair the skin barrier and improve skin elasticity and texture
Peptides and botanical extracts support a more collagen rich appearance, leaving the skin feeling smoother and tighter with less visible fine lines and wrinkles
Niacinamide assists in brightening areas of pigmentation and evening out skin texture and tone
Leontopodium Alpinum Callus Culture Extract, a powerful antioxidant, helps lift and tighten skin to address the appearance of sagging
Free of Oil, Gluten, Parabens, and Fragrance
Key Ingredients:
Biomimetic Ceramide Complex
Peptides
Niacinamide
Green Tea Polyphenols
Leontopodium Alpinum Callus Culture
Apple stem cells
LYCD
Botanical Extracts
Retinol & Niacinamide Nourishing Eye Cream
Formulated with All-trans-Retinol and 90% green tea polyphenols, this ultra-moisturizing cream targets fine lines, wrinkles, dark circles, and puffiness to achieve smoother, firmer skin around the delicate eye area.
Benefits:
All-trans-Retinol at the appropriate level for the delicate eye area helps increase firmness and elasticity
Niacinamide smooths skin and helps brighten discoloration
Fractionated Hyaluronic Acid deeply hydrates and seals moisture in, plumping visible lines and wrinkles.
Ceramide and Peptide Complex nourishes and tightens skin, reducing the appearance of bags and dark circles
Caffeine USP, Arnica, and Vitamin K help to reduce the appearance of dark circles and puffiness
Free of Fragrance, Gluten, Parabens, and Oil
Key Ingredients:
All-trans-retinol
Niacinamide
Fractionated Hyaluronic Acid
Caffeine USP
Green Tea Polyphenols
Ascorbic Acid
Arnica
Vitamin K
This cosmetic, non-drug formulation combines botanical skin tone enhancing ingredients with protective antioxidants to brighten and soothe skin.
Benefits:
Kojic Acid, Arbutin, and Bearberry are natural skin brighteners that promote even tone
Powerful antioxidants calm and soothe the skin
Quick penetration, easily layered into existing regimens
Mixed at the clinic site for maximum freshness
Brightens skin, reduces the appearance of fine lines and wrinkles, and improves skin texture and smoothness,
Free of Fragrance, Gluten, Parabens, Alcohol, Oil, and Acetone
Key Ingredients:
Kojic Acid
Arbutin
Bearberry
Green Tea Polyphenols
Vitamin C
Emblica
Silybum